NYC Pride Bans NYPD Presence + Good Cause Eviction Explainer
No 218
Monday, May 17, 2021
A note to our readers:
The Thorn has switched from Mailchimp to Substack so we can keep delivering you local New York politics news from a socialist perspective with fewer administrative costs. Starting in January 2022 our new issues can be at
thethornnyc.substack.com
along with how to subscribe. This website will serve as an archive of our past issues.
Local News
Elections
In-Depth: Good Cause Eviction Bill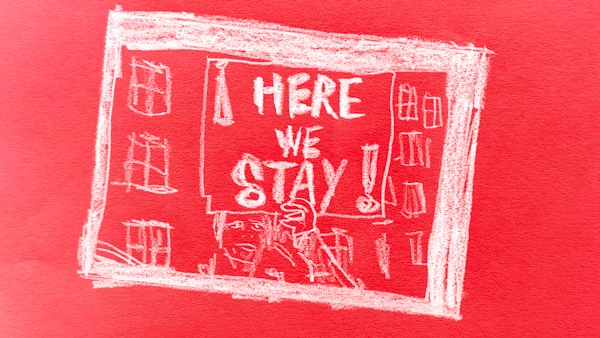 In 2019, an uprising of organized tenants successfully pushed a package of historic reforms to New York State's rent laws through the state legislature. Only one bill failed to pass:  A law prohibiting eviction without good cause, often referred to as "Good Cause," sponsored by DSA-elected Senator Julia Salazar (District 18, Bushwick) Brooklyn and Assembly Member Pam Hunter of Syracuse (District 128).
The bill's name reflects the fact that tenants could only be evicted for a "good cause," not simply at the whims of the landlord, and that tenants would have the ability to take their landlord to court in the case of an unjustified eviction. Legitimate causes for eviction under the legislation include violation of a substantial obligation of the lease (including failure to pay rent), committing or permitting a nuisance or illegal use, or the landlord's intention to personally occupy the unit as a primary residence. 
Before the COVID-19 pandemic struck, at least 100 families were evicted every day in New York State. Many of these evictions took place formally, through the court system, but many others took the form of harassment or a rent increase that the tenant couldn't afford. In New York's unregulated housing stock, which houses about 5.5 million tenants across the state, landlords do not have to justify lease terminations and rarely face consequences for tenant harassment. This system puts  unregulated tenants at constant risk of eviction.  It also disincentives tenant organizing for better conditions or against speculative purchases. While all tenants have the legal right to organize, the reality of evictions means that many tenants stay quiet rather than put their housing situation in jeopardy.
The pandemic emphasized that stable housing truly is a matter of life and death. National research released in December 2020 showed that the lifting of eviction moratoriums in different states across the country resulted in an average of 433,700 excess coronavirus cases and 10,700 excess deaths in each state. New York's current eviction moratorium protects against this scenario for now, but it is explicitly linked to the impact of the pandemic and is set to expire on August 31, 2021.This moratorium is also not universal; it only protects those who can show COVID-related hardship. To protect tenants from eviction in the long term, housing organizers are looking to enact Good Cause.
Good Cause lays out a set of enhanced protections for unregulated renters similar to those of  tenants in rent-stabilized units. The current legislation (S3082/A5573) would give every tenant the right to renew their lease indefinitely (or their tenancy if they are month-to-month), and would limit allowable rent increases to 3 percent of the previous rent, or 1.5 percent of the consumer price index (CPI), whichever is higher. By giving all tenants the right to renew their lease, Good Cause allows tenants to organize for safe living conditions in their homes without fear of eviction, opening up a new avenue to organize tenants in unregulated housing. And because Good Cause eviction protections would apply universally, tenants would not have to apply or meet certain criteria to qualify for protections.  All tenants, including undocumented New Yorkers, would require for good cause for their landlords to evict them.
Opponents of the bill, including the New York Post Editorial Board (with support from their friends in the real estate lobby), claim that the bill would "clobber" the housing market. In actuality, it would limit exploitative rent hikes and evictions of poor and working-class people.The Post reveals that its main issue with Good Cause is that "no building owner could ever evict a tenant or deny him or her a lease renewal, except under narrow circumstances." If the housing market would be "clobbered" by a ban on exploitative rent hikes, then it's clearly an unsustainable, predatory system.
The real estate lobby is also likely to claim, as it did in 2019, that "mom-and-pop landlords," especially in communities of color, would be hurt by this legislation. But the reality is that most small-time landlords already play by these rules, because tenant turnover is expensive and burdensome for landlords without a large profit margin and a management staff. Good cause would actually benefit these landlords by evening the playing field and reducing the need to evict in order to compete in the market. Furthermore, owner-occupied buildings with four or fewer units would be exempt entirely.
With just a few weeks left in this year's legislative session, Good Cause eviction has 23 sponsors in the State Senate and 51 sponsors in the Assembly. Polling from early 2020 showed 76 percent of voters statewide supported this legislation. Good Cause eviction is a popular and necessary policy that will bring New York one step closer to truly universal rent control.