Drivers on Strike + Get Your Thorn Trivia Night tickets!
No 114
Monday, May 13, 2019
A note to our readers:
The Thorn has switched from Mailchimp to Substack so we can keep delivering you local New York politics news from a socialist perspective with fewer administrative costs. Starting in January 2022 our new issues can be at
thethornnyc.substack.com
along with how to subscribe. This website will serve as an archive of our past issues.
Local News
Elections
Tiffany Cabán's campaign for Queens DA continues to generate attention as she distinguishes herself to the left of the other candidates.
The Times reported this week that African-American Democratic incumbents in New York are increasingly combating progressive insurgents by portraying them as representing white gentrifiers.
The Progressive Caucus Alliance, the political affiliate of the City Council's Progressive Caucus, has endorsed Monique Chandler-Waterman in the District 45 Special Election this Tuesday. Chandler-Waterman was previously endorsed by Jumaane Williams, who vacated the seat to become Public Advocate earlier this year.
TRIVIA NIGHT!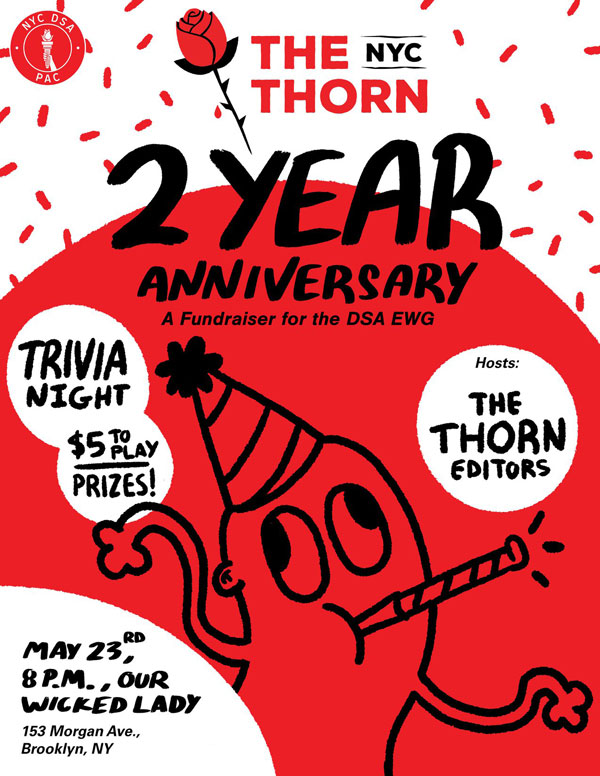 On Thursday, May 23rd, bring your A game — it's The Thorn 2 Year Anniversary Celebration + Trivia Night!
Challenge your knowledge of NYC history and politics against the editors of The NYC Thorn and raise funds for the NYC DSA Political Committee!
RSVP at the ticket link or by visiting: bit.ly/thethorntrivia
A donation of $5 and up gets you a chance to play Trivia with The Thorn editors!
There will be 5 rounds of trivia and a chance to compete to the be Grand Trivia Champion (with DSA social media cred!)
All donations through Action Network go to the NYC Democratic Socialists of America PAC. The NYC-DSA PAC uses funds raised for electoral work across NYC, we provide resources to grassroots candidates running for office that have been endorsed by the DSA.
Note: There will be a chance to pay at the door to play trivia as well, and those proceeds go to the DSA Citywide Electoral Working Group, but we suggest you reserve your space by buying a ticket now!