Cuomo, De Blasio trade blame for vaccination rollout + Celebrating 200 Issues
No 200
Monday, January 11, 2021
A note to our readers:
The Thorn has switched from Mailchimp to Substack so we can keep delivering you local New York politics news from a socialist perspective with fewer administrative costs. Starting in January 2022 our new issues can be at
thethornnyc.substack.com
along with how to subscribe. This website will serve as an archive of our past issues.
Local News 
Elections
The NYC Thorn Reader Survey
As we celebrate our 200th issue, we are asking you to fill out a brief survey to share your thoughts and help us bring you the content you want.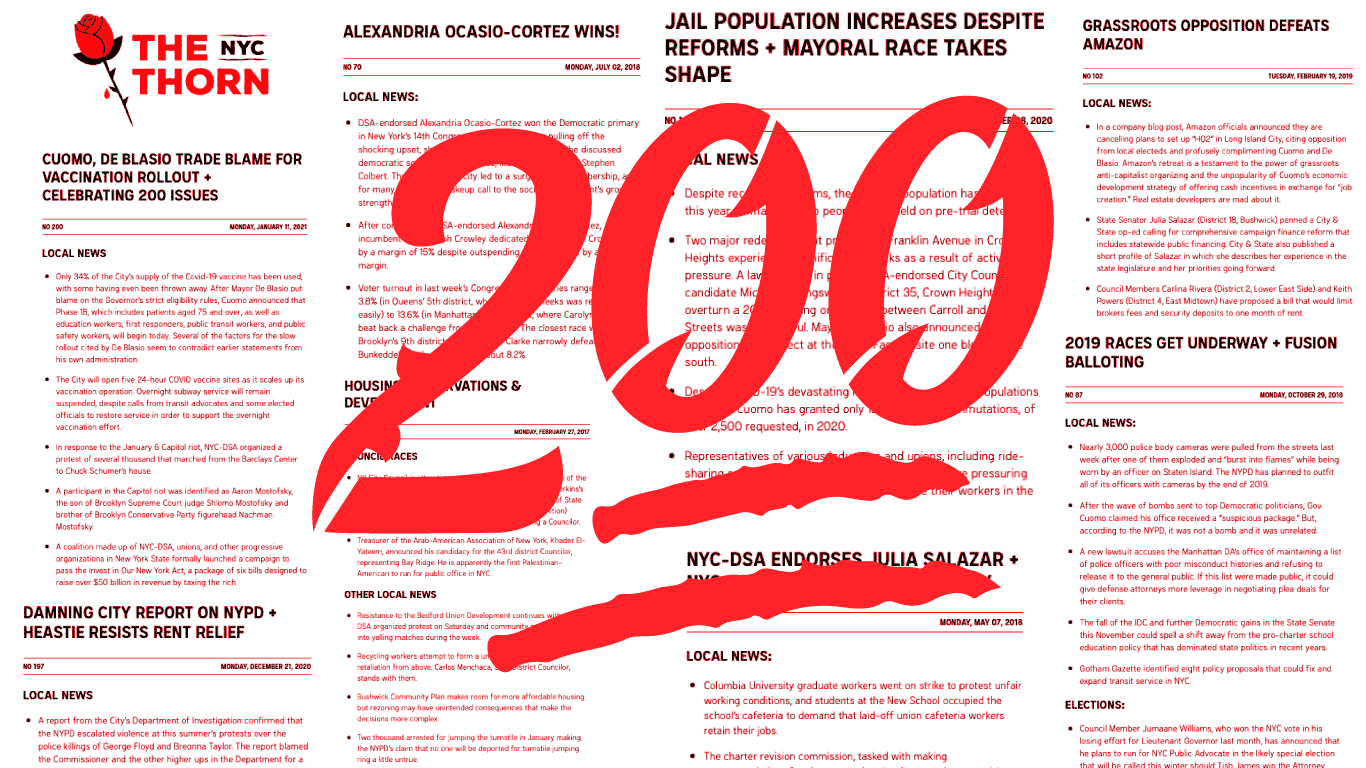 Celebrating 200 Issues with Reader Testimonials
"The Thorn provides grounded insight on what is happening in New York politics that is useful to socialist organizers as well as the public – our constituents in the Great 18th District and across the State. With all the disingenuous news that is out there, I'm grateful to The Thorn for keeping it real and sending us the NYC and NYS news we need to know. Congratulations on Issue 200!" - State Senator Julia Salazar, SD18
"We're not going to Albany to do business as usual: we're going to Albany and bringing the socialist movement with us. I can't wait to work with The Thorn to illuminate and explain the back room deals that have defined New York State politics for far too long. The Thorn will be an invaluable resource in bringing my constituents in the 36th district and all NYC-DSA members with me to Albany." - State Assemblymember Zohran Mamdani, AD 36
"I love The Thorn. Now that we have DSA electeds going to Albany (and soon city hall too!) having a socialist perspective is vital. Albany in particular is so murky and poorly reported following along our slate and the new progressive wave in our state legislature is imperative to achieving a better future." - Brandon Acton-Bond, a Thorn reader in Brooklyn
"The Thorn is one of the first emails I open every Monday morning for a grounded perspective on the New York State politics news of the week. It helps me get focused on what I need to know as I get ready to organize and serve my community all week," - State Assemblymember Marcela Mitaynes, AD 51
"In politics, people are always trying to twist the things you said. But The Thorn lets us speak directly about the issues our State is fighting right now: our story, in our own words. Congratulations to the Thorn on our 200th issue!" - Phara Souffrant Forrest, AD 57
"While Albany leaders operate in the dark, NYC-DSA does politics differently. The Thorn is critical to that: it helps keep thousands of our members informed on the top stories in NYC and NYS politics. As we take office, the Thorn will help us bring the people with us behind the scenes in Albany," - State Senator Jabari Brisport, SD 25
"I always make time for the thorn each week. Looking forward to 200 more." - Mike, a Thorn reader in Brooklyn
You can read through our archive here.